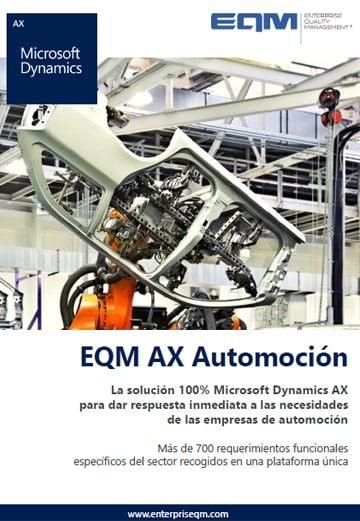 EQM AX Automotive
EQM AX Automotive is based 100% on Microsoft Dynamics AX, an easy-to-learn and easy-to-use enterprise resource planning (ERP) solution you can use to deliver value faster, take advantage of business leads, and drive user engagement and innovation throughout the company.
EQM AX Automotive has been designed in line with the best management practices, covering more than 700 industry-specific requirements (functionality and processes) in critical areas and divisions such as finance, purchasing, sales, EDI, dispatches, planning, production, quality, maintenance, CRM, etc. in the Metallic, Machining, Stamping and Plastic divisions - and all of this on a single platform such as Microsoft Dynamics AX.
EQM AX Automotive is a solution designed to help companies in international and multi-site environments to efficiently manage their financial and human resources, as well as their operations. Thanks to its ongoing interoperability, you'll be able to make existing investments in technology profitable, reduce the total cost of ownership (TCO), and support innovation in your company.