Microsoft Dynamics 365 Marketing
Optimise your campaigns and increase demand generation
Here at EQM we provide Microsoft Dynamics 365 Marketing which you can use to connect sales and marketing, and deliver incredible user experiences.
Convert leads into business relationships
Secure and consolidate leads using strategies that go beyond basic email marketing.
With Dynamics 365 Marketing you can connect sales and marketing, automate processes, and make smarter decisions to maximise marketing ROI.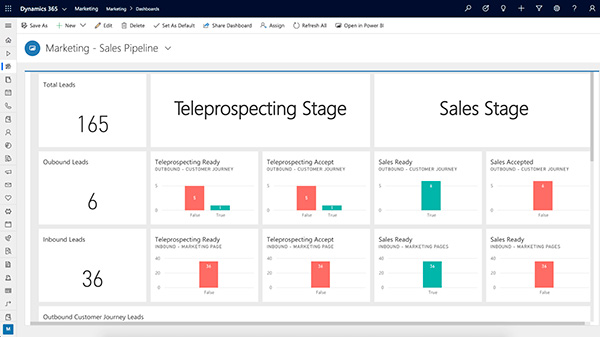 Feel free to request more information or a demo of Microsoft Dynamics 365 Marketing. We'll be delighted to help you out.
Secure and consolidate leads
Run multi-channel marketing campaigns
Attract the right leads and consolidate them through email marketing, landing pages, webinars, and events with Dynamics 365 Connector for LinkedIn Lead Gen Forms.
Personalise experiences
Use configurable templates and designer tools to configure the buyer journey and personalise experiences based on customer interaction.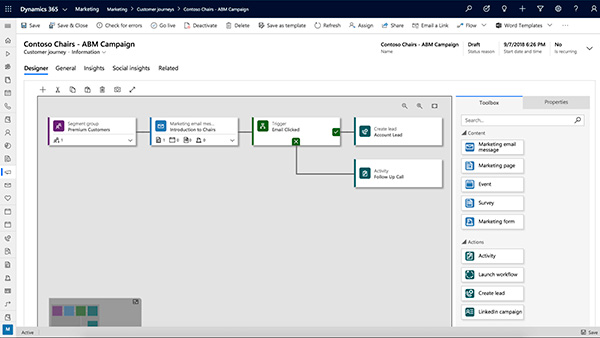 Simplify event management
Run in-person and virtual events with ease by managing registrations, speakers, venue logistics, and attendance data in collaboration with ON24, an industry-leading webinar provider.
Attract customers on social channels
Use Microsoft Social Engagement to generate a social presence, achieve new customers, and attract customers and leads on social channels.
Coordinate sales and marketing
Create a customer view
Share a source of information about contacts, leads, and customers to deliver consistent results throughout the buyer journey with Microsoft Dynamics 365 Sales.
Track the lead journey
Secure leads through the sales and marketing funnel more efficiently with automated workflows that streamline the buyer journey using marketing automation software.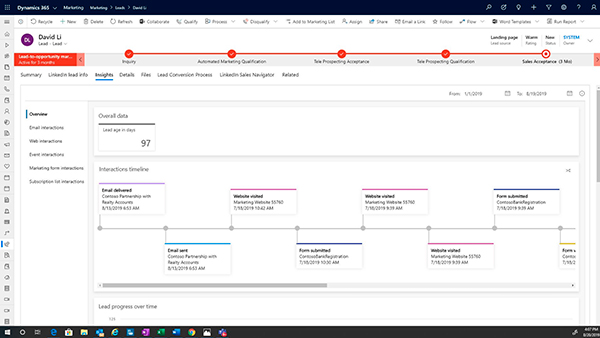 Supply sales leads
Prioritise sales-ready leads with various lead classification models and sales readiness categories.
Increase productivity
Usa las herramientas conocidas de Office 365 como las plantillas de Word integradas para crear fácilmente documentos profesionales, las plantillas de Excel para analizar las actividades de marketing y SharePoint para colaborar con Use familiar Office 365 tools like built-in Word templates to easily create professional documents, Excel templates to analyse marketing activities, and SharePoint to collaborate with colleagues, leads and customers.
Make better decisions
Focus on top priorities
Use built-in intelligence capabilities like dynamic targeting to target the right audience, or various lead ranking models to prioritise and inspect customer interactions to personalise engagement.
Measure results in real time
Track campaign performance and marketing activities with Power BI's configurable panes and analysers.
Identify customer needs
Conduct online surveys to better understand your customer's needs and apply learning techniques to your marketing investments.
Improve social interaction
Use social information to gain competitive intelligence and measure and manage your brand reputation.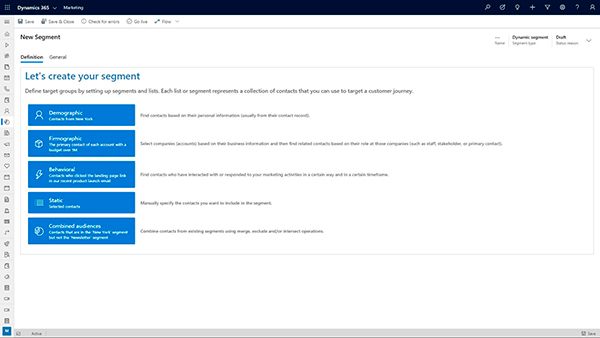 Innovate with a modern and adaptable sales and marketing software platform
Adapt quickly
Reduce time to market and tailor the application to your needs with visual editors and no-code tools to easily create and deploy web and mobile applications.
Extend and connect
Automate processes in the different Dynamics 365 applications and third-party systems to improve service acquisition experiences.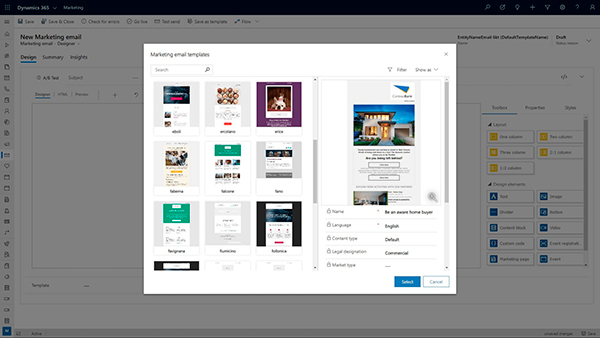 Invest with confidence
Trust Microsoft's cloud platform to reduce the cost and complexity of operating a global infrastructure, and rely on our state-of-the-art data centres to protect your data.
Drive innovation
Transform customer interactions through in-depth insight into artificial intelligence to help your teams achieve desired business results.
Would you like to learn more about how Microsoft Dynamics 365 Marketing can help you?
Contact us and one of our product experts will personally assist you. .
OTHER SOLUTIONS FOR YOUR COMPANY
EQM offers an extensive portfolio of business solutions to enhance your company's competitiveness by optimising management, improving processes, increasing profitability, and boosting resource productivity.