EQM AX WMS (Warehouse Management System)
Optimise stock management and reduce storage costs
EQM offers EQM AX WMS (Warehouse Management System), the solution developed 100% on Microsoft Dynamics AX with which you can optimise warehouse movements quickly and safely, while also reducing material management times.
In these times when the word productivity is on the lips of every major company and has become an essential factor for development, here at EQM we would like to present a solution to significantly increase productivity in warehouse processes.
The warehouse management system that EQM offers is an add-in fully integrated with your ERP that complements its features to obtain the necessary information in real time and quickly and easily, with the aim of minimising errors and improving internal warehouse processes , thereby cutting costs in order picking and improving customer satisfaction.
Here at EQM we provide a safe and reliable system that gives greater control over locations and stocks in the ERP, an optimisation of warehouse movements, a reduction in material management times and a real-time tracking of the process.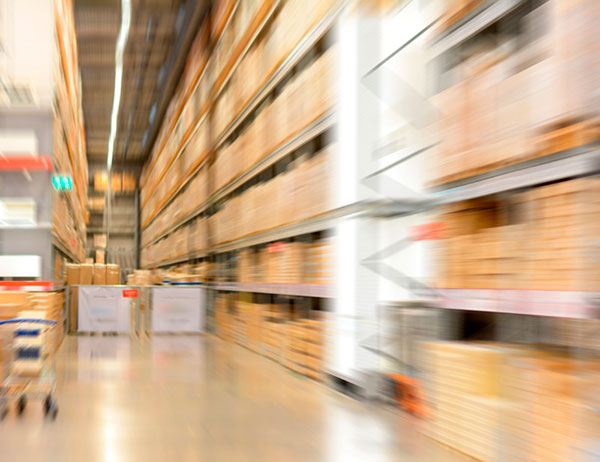 EQM AX EDI | Main Features
Reduction in the times taken by the main warehouse processes.
Comprehensive planning and optimisation of resources involved in the process.
Real-time stock control and reconciliation.
Reduction in the number of errors by using RDF technology.
Improved customer service that meets shipping deadlines and characteristics.
Quick and tangible return on investment.
Would you like to learn more about how EQM AX WMS can help you?
Contact us and one of our product experts will personally assist you. .
EQM AX EDI | Advanced Functionality
INTEGRATED ORDER MANAGEMENT
Integrated management of orders OV, RPL, OF, etc.) pending preparation through a single screen, on which the following can be assigned by order: the best resources for the task, preparation priorities depending on delivery date, the nature of the order, and so on. The screen is dynamic and any change is instantly reflected, making management quick and flexible.
RDF SYSTEM
All warehouse processes will use the RDF system: reception of goods, relocation, stock counts, preparation, and dispatches, all using screens that have been specially developed for each point in the system. As a result, data collection will be much more reliable and faster, and manual processes will also be much quicker.
DOCUMENT MANAGEMENT
Dispatch documents will be obtained from the same RDF system automatically at just the right moment, without having to constantly enter the ERP. This will cut the time wasted by the operator and reduce the chances of bad working practices.
TRACKING OF ITEMS
Tracking of stock items at all times from receipt to dispatch, preparation and stocks.
INTERFACE WITH THE ERP
There is an ERP interface that continually launches, ensuring real-time and fully reconciled stocks in the ERP.
COUNTING
Powerful tool for counting, reducing breakages and incidents, and increasing control of critical parts.
REPORTS AND STATISTICS
With the EQM WMS module, you'll have all the reports and statistics you need for fast and reliable information at all times.
OTHER SOLUTIONS FOR YOUR COMPANY
EQM offers an extensive portfolio of business solutions to enhance your company's competitiveness by optimising management, improving processes, increasing profitability, and boosting resource productivity.