Social Selling
Boost sales with the unified solutions of LinkedIn Sales Navigator and Dynamics 365 Sales
Unify LinkedIn Sales Navigator and Dynamics 365 Sales with Microsoft Relationship Sales and provide your salespeople with the necessary resources to achieve a more personalised and productive engagement with customers.
Establish sales relationships with the right people
Focus on the right customers
With more than 640 million professionals on LinkedIn, salespeople can easily find and contact decision-makers.
Find all the members of the team responsible for purchases
Increase profits by knowing your client's organisation and contacting the members of the purchasing department. Visualise relationships between contacts and job changes with interactive flow charts.
Find the best way to reach each buyer
Make it easy for salespeople to connect with buyers by showing them the people in the network and the company.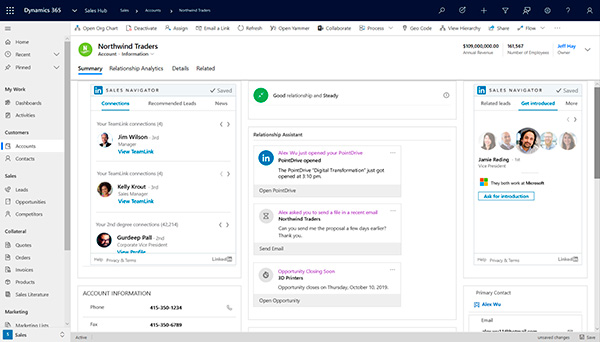 Feel free to request more information or a demo of Social Selling. We'll be delighted to help you out.
Recommendations for optimising relationships with buyers
Build relationships with the right actions
Get recommendations to improve sales based on customer engagement data from LinkedIn, Dynamics 365 and Office 365.
Track buyers and their needs
Show salespeople what buyers care about via the content they share on LinkedIn and their online engagements. Let your salespeople know in real time when buyers connect with someone online or are mentioned.
Use personalised content to engage buyers
Allow salespeople to easily personalise, share and follow presentations with Office 365 and PointDrive. Notify salespeople when PointDrive presentations are forwarded to others so they can proactively identify new interested buyers.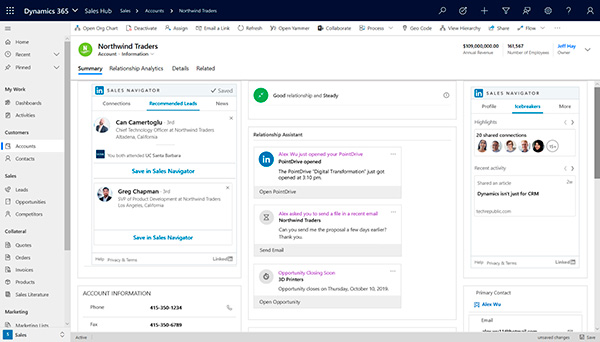 Would you like to learn more about how Social Selling can help you?
Contact us and one of our product experts will personally assist you. .
Interact according to your needs
Sync all important relationship data
Provide salespeople with contextual information essential to building strong relationships with automatic data synchronisation across Sales Navigator, Dynamics 365 Sales and Office 365. In Dynamics 365 you can view profile details, profile photos and activities on Sales Navigator.
Optimise your sales process
Save time by sending messages directly from Dynamics 365. Drive salespeople to optimal results with event-based sales processes.
Get ahead with the right tools
Rely on a platform which updates as you need it, fully integrates with Office 365 and Power BI, and helps sellers build relationships now and in the future.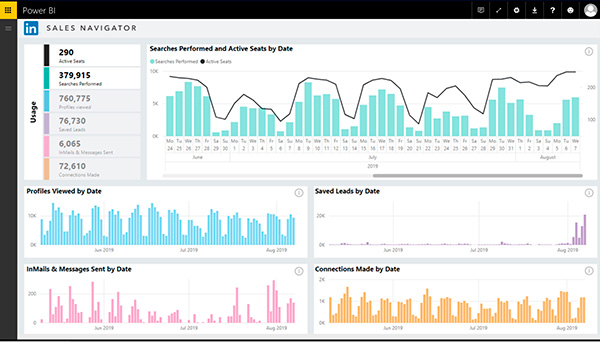 OTHER SOLUTIONS FOR YOUR COMPANY
EQM offers an extensive portfolio of business solutions to enhance your company's competitiveness by optimising management, improving processes, increasing profitability, and boosting resource productivity.