Microsoft Dynamics 365 Sales
Turn relationships into income
EQM offers Microsoft Dynamics 365 Sales, which you can use to provide your sales team with practical information to personalise relationships, predict customer needs, and increase sales.
Turn relationships into income
Go beyond sales force automation (SFA).
With Dynamics 365 Sales you'll be able to better understand customer needs, attract customers more effectively, and close more business deals.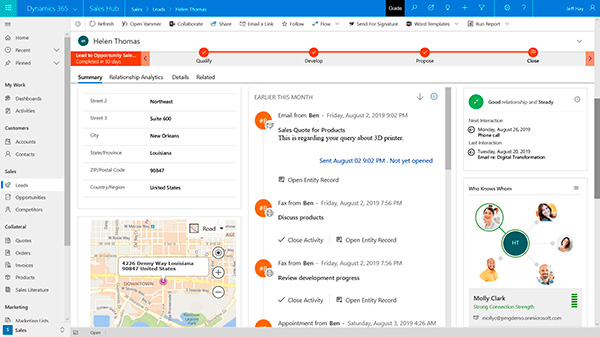 Feel free to request more information or a demo of Microsoft Dynamics 365 Sales. We'll be delighted to help you out.
Smarter selling with built-in intelligence
Find out the next step
Consolidate relationships with personalised and relevant interaction based on built-in contextual intelligence that helps the sales force exceed the expectations of modern-day buyers.
Optimise email capture
Improve your email communication with built-in intelligence that lets you know when and how customers are interacting with email messages, in order to offer greater proactivity and responsiveness in communications.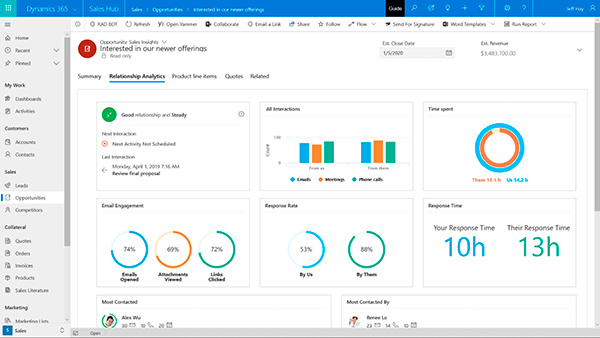 Keep up with social trends
Find out what shoppers really think by using social intelligence that reveals social feelings and identifies potential threats from competitors.
Improve conversion rate and success rate
Classify leads and opportunities with advanced models that help identify customers with the highest conversion and purchase likelihood.
Improve response rates
Take advantage of contacts from colleagues who have already established relationships with potential customers through email, meetings, or collaborations.
Tailor interactions based on contextual recommendations
Tailor interactions based on personalised discussion topics and the best actions you can take next.
Show salespeople how and when customers interact
Through their emails so they can be more proactive and dynamic in their electronic communications.
Keep relations under control
Keep customer relations under control with the Dynamics 365 and Office 365 prompts that inform you of the status of the relation and its risks.
Build relationships with authentic and personal commitment
Prioritise buyers with relationship selling
Build trust with insights focused on specific customer needs and easily manage customer relations according to needs with LinkedIn and Dynamics 365 integration that unifies data and processes.
Keep track of contacts
Analyse the relationships between your contacts using interactive flow charts.
Capture buyers on social media
Discover opportunities and build relationships with built-in intelligence that highlights relevant conversations to follow and recommends content to share.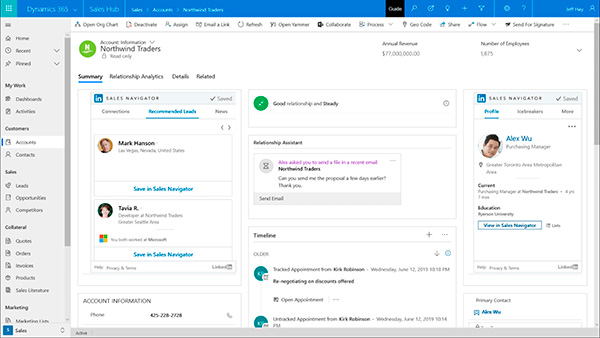 View things from the customer's perspective
Enhance sales interactions by pooling customer data with insights from Microsoft Forms Pro, included in Dynamics 365 Sales.
Offer personalised content
Get suggestions for content relevant to the topic you're working on and the people you're working with. Quickly create personalised sales documents with familiar Office 365 tools that enable simultaneous editing and collaboration.
Boost productivity and increase revenue
Provide smart guidance
Increase user adoption and minimise the need for training with rich contextual help and an event-driven smart sales process that guides salespeople to optimal results.
Simplify sales
Accelerate sales closings with a comprehensive and immersive lead management experience. Use familiar tools like Excel and Outlook for daily sales activities. Check the status of cases without having to change applications.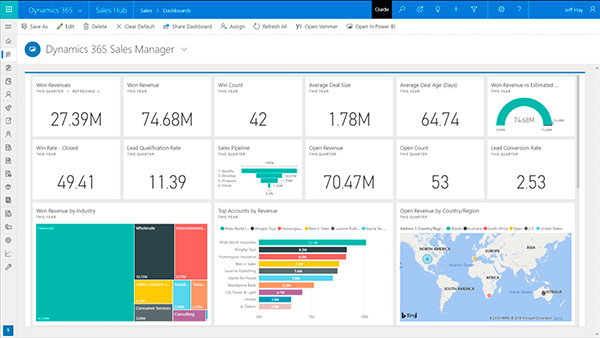 Stay informed
Enrich account, contact, and lead data with contextual third-party signature images, news, and events that are engaging for B2B and B2C business models.
Sell anytime, anywhere
Work wherever you are, even offline, thanks to modern mobile apps that provide news, social data and workflows.
Connect with your partners
Contract, incorporate, and consolidate your partner channel through a more complete enablement and activation. Give partners a quick view of your interactions on business cases and leads, as well as other relevant data.
Accelerate sales performance
Reduce the time it takes to increase sales
Make it easier to onboard new salespeople. Coordinate sales behaviour with best practices, interactive help, and documentation.
Increase sales efficiency
Get your numbers by setting goals, monitoring results, and providing real-time information and advice. Investigate deviations from the plan and take corrective action on dashboards in real time.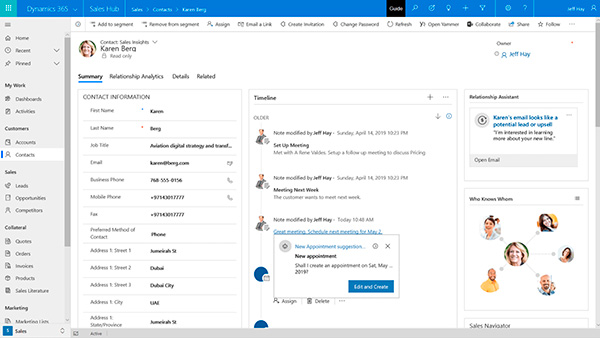 Gain visibility and insight
Move from data to insight through real-time dashboards with interactive data analysis capabilities that enable natural language queries.
Motivate salespeople
Give salespeople a boost with fun and engaging sales competitions. Increase sales performance and hold everyone accountable for their results with a gamification solution that gives high visibility to results.
Would you like to learn more about how Microsoft Dynamics 365 Sales can help you?
Contact us and one of our product experts will personally assist you. .
Innovate with a modern and adaptable platform
Adapt quickly
Reduce time to market and tailor the application to your needs with visual editors and no-code tools to easily create and deploy web and mobile applications.
Extend and connect
Automate processes across Dynamics 365 applications and third-party systems to deliver a unified experience .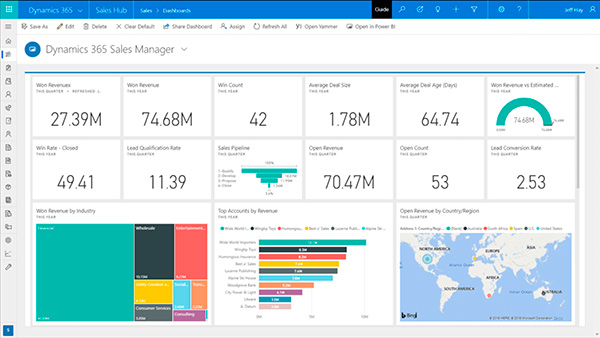 Invest with confidence
Rely on the Microsoft cloud platform to reduce the cost and complexity of operating a global infrastructure. Trust our state-of-the-art data centres to protect your data.
Drive innovation
Transform customer interactions through in-depth insights provided by embedded intelligence that guides teams to achieve desired business results.
OTHER SOLUTIONS FOR YOUR COMPANY
EQM offers an extensive portfolio of business solutions to enhance your company's competitiveness by optimising management, improving processes, increasing profitability, and boosting resource productivity.