EQM OFFICE 365 PROGRAM: HOW TO BUILD A COMPANY ORGANISATIONAL CHART USING TEAMS AND OUTLOOK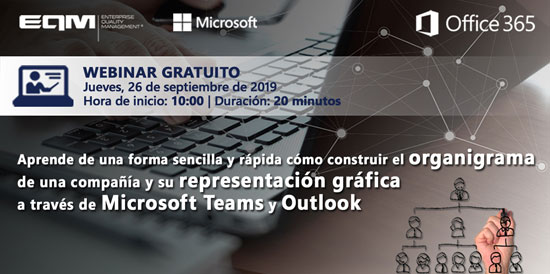 In this webinar, we provide a step-by-step explanation of how to build an organisational chart and how to create a new user, their hierarchy in a company, and their interaction with the other users in an Office 365 environment.
Once the organisational chart has been defined, you'll be able to view it in in Microsoft Teams and Outlook to enjoy functionalities such as:
Hierarchical representation in a graphic and simple way.
User availability functionality for direct communication and interaction.
Microsoft Teams assistant for locating new users or existing users in the company.
Watch video now
To watch the video, please fill in the following form.