EQM success stories | Teka
Teka connects forty-five branches with Dynamics AX
Leading European manufacturer of fitted household appliances, especially ovens, hobs, hoods and sinks. It is also a world leader in the production of beer kegs.
Twenty-five factories spread over three continents and logistics platforms with distribution hubs in Europe, Asia and Latin America.
It sells its products in more than one hundred and twenty countries, with more than one hundred million consumers around the world.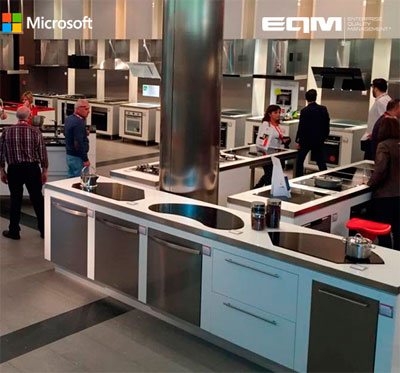 Competitive advantages based on specialisation and international expansion.
Implementation of Dynamics AXat all local offices.
Integration of all business areas without background processes.
Areas: financial, procurement, national and international sales, and logistics departments, connected with forty-five branches, EDI, RF, interfaces with logistics and production programs.
Immediate integration of orders and sales statistics - generation of national and international sales cubes.
One-stop invoicing process. Information for the generation of cubes in real time. Unassisted process.
Control of transits and incidents. Daily control of impact on the profit and loss account.
OTHER SOLUTIONS FOR YOUR COMPANY
EQM offers an extensive portfolio of business solutions to enhance your company's competitiveness by optimising management, improving processes, increasing profitability, and boosting resource productivity.