EQM success stories | INTERFLORA
Interflora implements Dynamics AX in all its departments and branches
The company's origins date back to 1946, when three groups formed at the beginning of the century - Florists' Telegraph Delivery Association (USA), Fleurop (Germany) and British Unit (UK) - were rebranded under the name of Interflora. The network now includes more than fifty thousand florists and operates in one hundred and seventy countries on five continents. Meanwhile, Interflora Spain was established in 1951.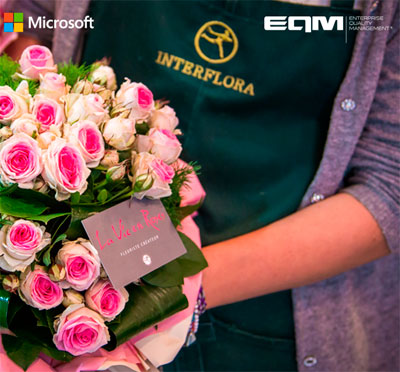 Competitive advantages based on specialisation and international expansion.
Business process reengineeringand implementation of Microsoft Dynamics AX 2012 as a core business tool.
Areas: finance (accounting, invoicing, asset management), partner management, operations, supplier management and customer service.
Magentoas an e-commerce platform and creation of minisites for all its partners and implementation of integration BUS for order traffic management.
Implementation in Amazon of all systems.
Capacity to tackle corporate expansion on a country level (Portugal) and business lines (funeral parlours)
"…EQM is more than just a service provider. For Interflora, EQM is a strategic partner that is allowing us to successfully handle our IT plan. They have shown us great expertise and experience in technological projects and especially in everything related to Microsoft technologies, such as Microsoft Dynamics AX. Above all, I value their professionalism, constant commitment, their ability to respond to our needs and especially, their ability to manage critical moments that usually occur during implementation of most projects..."
Gustavo Fernández-Baillo Cañas, Director of Information Systems
OTHER SOLUTIONS FOR YOUR COMPANY
EQM offers an extensive portfolio of business solutions to enhance your company's competitiveness by optimising management, improving processes, increasing profitability, and boosting resource productivity.