EQM success stories | Hornby Hobbies
Hornby implements Dynamics AX 2012 as a one-stop solution
Hornby Hobbies is a multinational company listed on the London Stock Exchange and famous in the UK for being the country's leading model train brand.
Its headquarters and offices are located in England and its production plant in China, with subsidiaries in Spain, France, Germany, and Italy.
Hornby Hobbies owns many brands within the world of toys and modelling such as Scalextric (Superslot in Spain), Air Fix, Humbrol, Lima, Rivarossi, Jouef, Arnold, Electrotren, and Corgi.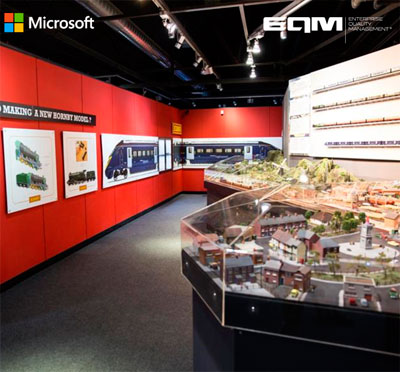 Competitive advantages based on specialisation and international expansion.
Implementation of Microsoft Dynamics AX 2012as a one-stop solution.
Group visibility for operations and finances and full understanding of the system across the company.
Optimisation of individual departmental and interdepartmental processes. Reduced duplication and increased business response.
Interface Solution with Magentoand Microsoft Dynamics AX 2012.
Traceability of information processed by the system.
Proven project methodology to avoid any risk at start-up and improvement of the service offered to the customer.
Simplification of data transactions between two platforms to improve efficiency and productivity.
"…EQM is a technological partner that provides maximum guarantees. Thanks to its experience and knowledge, we have been able to automate and optimise the management of the group's companies with Microsoft Dynamics AX. The one-stop interface developed by EQM for integration with different systems, both online and on an in-house management level, has made us much more productive and efficient. I would particularly highlight their commitment, professionalism and ability to propose efficient and cost-effective solutions for complex problems in both technology and business matters".
Francisco Gómez Barrionuevo, Chief Financial Officer
OTHER SOLUTIONS FOR YOUR COMPANY
EQM offers an extensive portfolio of business solutions to enhance your company's competitiveness by optimising management, improving processes, increasing profitability, and boosting resource productivity.