EQM Success Stories | Fruits CMR
Fruits CMR enhances and simplifies processes with Dynamics AX and consolidates its growth
Fruits CMR is a family-owned company founded in 1879 and based in Barcelona (Mercabarna). It is the parent company of the CMR Group, which markets horticultural products such as fruits, vegetables, tropical, exotic and ethnic products, berries, citrus, IV and V range products, aromatic herbs and organic products, through its own points of sale.
CMR Group is also made up of its subsidiaries CMR INFINITA, located in the central market of Madrid (Mercamadrid); CMR LEÓN, in Mercaleón; CMR CANARIAS, on the island of Santa Cruz de La Palma (Canary Islands); CMR FRANCE, in Perpignan (France); CMR HOLLAND, in Ridderkerk (Holland); and CMR BRASIL in Natal (Brazil).
The philosophy of the group companies has been to combine values such as dedication, service, quality and professionalism, which has earned it the recognition of consignors, suppliers, clients and competition throughout all these years of experience.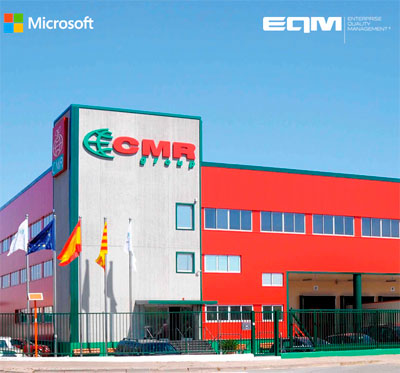 Competitive advantages based on specialisation and international expansion.
Areas: finance, procurement, national and international sales, logistics and distribution.
Implementation of Microsoft Dynamics AX 2009thanks to its ability to tailor to the required needs.
Process improvement and simplificationof the management model required for sustained growth.
Optimisation of specific requirements, such as speed of distribution and maximum quality control.
Key transformation process to absorb the growth of the company.
International rollout: extension of the model to its subsidiaries in France, Holland and Brazil.
OTHER SOLUTIONS FOR YOUR COMPANY
EQM offers an extensive portfolio of business solutions to enhance your company's competitiveness by optimising management, improving processes, increasing profitability, and boosting resource productivity.