EQM offers EQM AX Cash Flow, the cash flow management solution developed for companies using Microsoft Dynamics AX.
The main functions of cash flow departments are to add value by enhancing liquidity, globalising controls, and ensuring the overall efficiency of all financial processes. Cash flow should be identified as part of the company's strategy and, as such, should be a key element in formulating strategy for liquidity control and planning, management of short-term funding requirements and surpluses, management of foreign exchange transactions, and control and management of banking terms.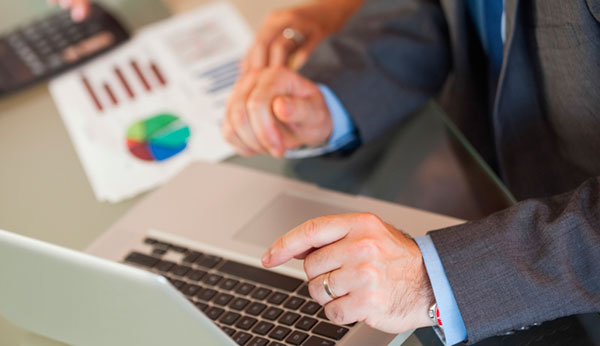 Feel free to request more information or a demo of EQM AX Cash Flow. We'll be delighted to help you out.
EQM AX Cash Flow | Advanced Functionality
The Cash Flow solution is built on the Microsoft Dynamics AX development language and integrated directly in the banking module.
Conduct cash flow management in aspects regarding loans, credit policies and financial assets.
Calculate fees and interest and reflect loan instalments in ledgers.
Generate and control amortisation tables.
Formulas for calculating pre-defined instalments and interest payments.
Summarised balanced scorecards
Forecasting of cash flow, clients, suppliers, miscellaneous items (overheads). Global forecasting.
Differentiation between the confirmed and unconfirmed client and supplier portfolio.
Inclusion of invoices and sales orders in client revenue forecasts.
Inclusion of delivery notes and purchase orders in supplier expenditure forecasts.
EQM AX Cash Flow | Main Features
PARAMETER-DRIVEN
Flexible configuration for the variables involved in credit policies, loans, or financial assets.
Flexible configuration for the variables involved in forecasting clients, suppliers, cash flow and sundry items.
INTEGRATED WITH AXAPTA BANKING MODULE
Visibility of the Cash Flow module within the standard Microsoft Dynamics AX module, configured in tabs for Cash Flow but within the Banking module.
CALCULATION OF INSTALMENTS
Calculation and accounting of loan repayment instalments.
REALISTIC CASH FLOW FORECASTS FOR CLIENTS AND SUPPLIERS
Using parameterisation, delivery notes and sales orders can be included in the revenue forecast.
Using parameterisation, delivery notes and purchase orders can be included in the expenditure forecast.
SUPPORT REPORTS
Possibility of displaying forecasts on screen in a report.
Like to learn more about how EQM AX Cash Flow can help you?
Get in touch with us and one of our product experts will personally assist you. .
OTHER SOLUTIONS FOR YOUR COMPANY
EQM offers an extensive portfolio of business solutions to enhance your company's competitiveness by optimising management, improving processes, increasing profitability, and boosting resource productivity.