EQM Success Stories | Angel Mir
Ángel Mir implements Dynamics AX 2009
The Ángel Mir head office, located in Corçà (Girona), has a 22,000 m2 manufacturing and logistics plant, as well as three branches in Barcelona, Valencia and Andalusia. Each of them has a warehouse and offices for the sales management and assembly of products.
What's more, it has a significant fleet of its own industrial and logistics transport vehicles.
Ángel Mir operates in more than fifty countries in Europe, Africa, Asia and the Americas through local offices and distributors, with exports accounting for more than 50% of its production.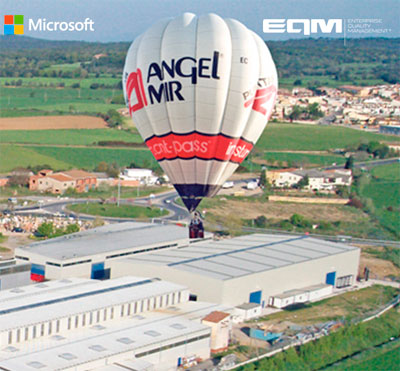 Competitive advantages based on specialisation and international expansion.
Areas: finance, procurement, national and international sales, logistics and production.
Implementation of Microsoft Dynamics AX 2009 and unification with the upgrades provided
Implementation of product configurator and upgrade projects.
Integration of all sales information in Dynamics AX.
Key transformation process to absorb the growth of the company.