Dynamics 365 Customer Service Insights
Extrae conocimiento, métricas y tendencias y utiliza agentes virtuales para resolver rápidamente los problemas de soporte
Emprende acciones fundamentadas y mejora el servicio de atención al cliente con información "out of the box". Con las innovadoras funcionalidades y características de IA podrás medir el rendimiento a lo largo del tiempo en todos los canales, identificar las áreas de crecimiento y mejorar tu productividad.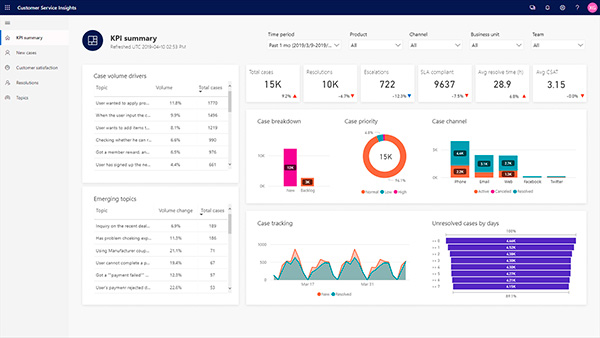 Si deseas más información o una demostración de Microsoft Dynamics 365 Customer Service Insights, solicítalo ahora. Estaremos encantados de atenderte.
Dynamics 365 Customer Service Insights | Características y Funcionalidades
INCREMENTA LA SATISFACCIÓN DEL CLIENTE
Fomenta la fidelidad de tus clientes resolviendo los problemas que surgen antes de que afecten a más clientes. Obten una perspectiva integral de los factores que impulsan la puntuación de satisfacción de los clientes (CSAT) e implementa mejoras basadas en los datos con AI Insights.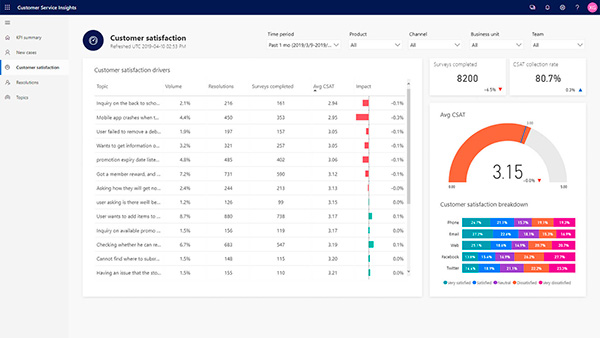 AUMENTA LA EFICIENCIA OPERATIVA
Optimiza las operaciones usando información extraída de la resolución de casos, tendencias de casos pendientes y comparaciones históricas para evaluar el rendimiento de los distintos agentes y el impacto empresarial. Supervisa el volumen y los temas de los casos de soporte que llegan para optimizar la productividad de los agentes.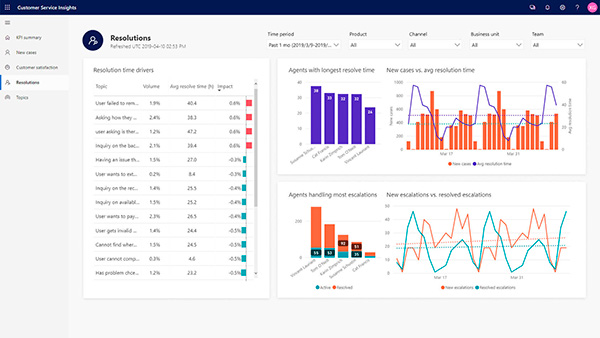 OBTÉN UNA PERSPECTIVA INTEGRAL
Observa los patrones de interacción de tus clientes, el rendimiento de los agentes y las operaciones del servicio de atención al cliente en paneles con funcionalidades de Inteligencia Artificial, Business Intelligence y Machine Learning integradas. Descubre y comparte información crítica con filtros interactivos y diagramas.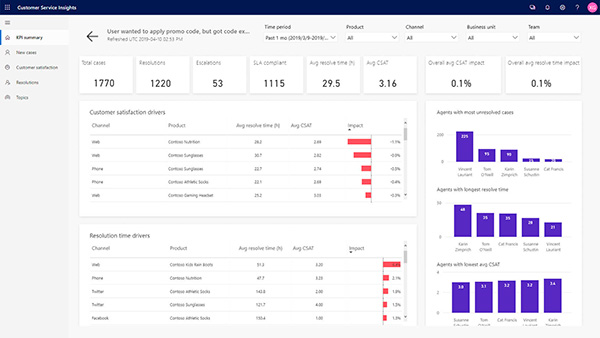 ¿Quieres conocer mejor cómo puede ayudarte Microsoft Dynamics 365 Customer Service Insights?
Ponte en contacto con nosotros, y uno de nuestros expertos de producto te atenderá personalmente.
OTRAS SOLUCIONES DE INTERÉS PARA TU NEGOCIO
Desde EQM, ponemos a tu disposición un amplio portfolio de soluciones empresariales con los que mejorar la competitividad de tu organización a través de una óptima gestión, una mejora de los procesos, un incremento de rentabilidad y una mejora sustancial en la productividad de tus recursos.