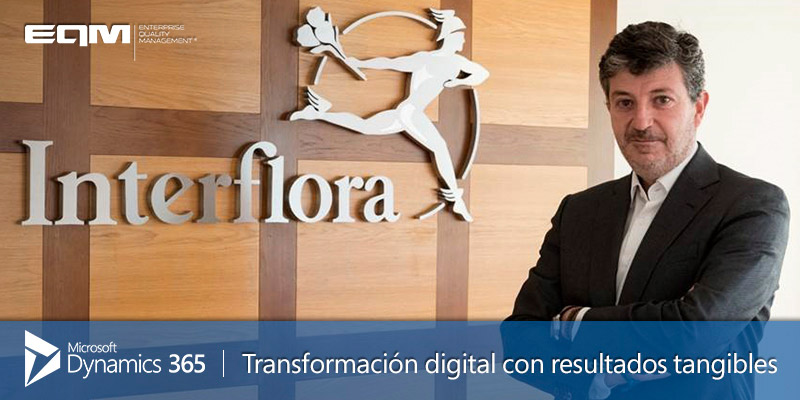 EQM | Interflora: ejemplo de transformación digital con resultados tangibles
Interflora ha incrementado nuevamente sus ventas en el canal online en España y Portugal en más de un 50% en la campaña de "San Valentín", habiendo superado todas sus expectativas para esta campaña. 
Su red de Floristas y un ambicioso proceso de transformación digital iniciado hace ya 7 años de la mano de EQM, claves para afrontar este crecimiento y absorber los elevados picos de demanda.
Parece claro que la pandemia ha cambiado nuestra manera de consumir. Está habiendo un cambio de modelo económico y, por consiguiente, en muchos sectores, las compras online se están viendo impactadas con mejor o peor suerte. Y aunque esto ya se hacía, y el e-commerce ya presentaba una tendencia al alza antes del virus, hay datos claros que muestran que durante los últimos meses las ventas online han experimentado un gran crecimiento y que ha llegado para quedarse con más fuerza que nunca.
En este escenario, Interflora España ha incrementado sus ventas en el canal online en más de un 50%, al haber sido capaz de asumir la alta demanda de sus productos durante las primeras semanas del año.
La Campaña de San Valentín ha superado con creces nuestras expectativas
Un día perfecto en San Valentín necesita de flores e Interflora permite elegir la composición perfecta para sorprender a esa persona especial. Además, Interflora permite elegir distintas opciones de envío, ya sea el mismo día, al día siguiente o cualquier otro con lo que facilita la decisión y el proceso de compra.
La flexibilidad que aporta la tecnología a Interflora está siendo clave para abordar situaciones muy específicas de un negocio muy estacional, donde determinadas semanas del año, como las del Día de la Madre o San Valentín, Interflora se enfrenta a un crecimiento exponencial en el volumen normal de pedidos.
Para Gustavo Fernandez-Baillo, CIO de Interflora: "…con la pandemia se ha consolidado un cambio de modelo económico que está teniendo su impacto en las compras online. En nuestro caso, ya provocó que, en 2020, por poner un ejemplo, durante los días previos a la festividad del día de la Madre, superáramos todas nuestras expectativas y algo similar ha ocurrido este año en la semana previa a San Valentín, fechas en las que hemos crecido en más de un 50% sobre los datos del año pasado…"
Según Fernandez-Baillo, "…hemos superado con creces las expectativas y los resultados de la campaña del año anterior y nos hemos consolidado como una opción mucho más apreciada y valorada para nuestros clientes…".
Un ambicioso proceso de transformación digital y su red de Floristas, claves para absorber este crecimiento
La sólida apuesta de Interflora por los nuevos canales y tecnologías, apoyado en un sólido proceso de transformación digital, así como la especialización y compromiso de su red de floristas asociados, están siendo claves para afrontar este crecimiento y absorber los elevados picos de demanda.
Estos picos, que según Fernández -Baillo se han superado un año más sin una sola incidencia a nivel tecnológico…" sólo son posibles de absorber y gestionar gracias a haber migrado toda la infraestructura a la nube y a disponer de sistemas y aplicativos de gestión tremendamente sólidos y potentes como Microsoft Dynamics y Magento, de forma completamente integrados, que proporcionan una gran estabilidad y tranquilidad, en cuanto a la operativa y el día a día de los diferentes departamentos de la empresa…"
Según indica Fernandez-Baillo, "…en Interflora iniciamos un profundo proceso de transformación digital hace más de 7 años. Fuimos visionarios en ese sentido y decidimos abordar una profunda revisión y redefinición de los procesos de negocio de la compañía. Partíamos de unas plataformas tecnológicas muy encorsetadas y hechas a medida con las que teníamos grandes dificultades a la hora de enfrentarnos a nuevas formas de hacer las cosas. Decidimos apostar por tecnologías estándar que a día de hoy son los pilares de esta transformación y que nos están permitiendo atender y proporcionar un servicio adecuado a nuestros clientes…"
Para Fernández -Baillo, "… aunque en España la media de gasto anual en flores es sustancialmente menor en comparación con otros países europeos, estos crecimientos confirman que hemos tomado el camino correcto por medio de la digitalización de nuestro negocio apoyados siempre en nuestra gran fortaleza, la red de Floristas de Interflora…"
El futuro: más nube, migración a Dynamics 365 Finance & Supply Chain Management y mayor productividad con Microsoft 365
La apuesta decidida de Interflora por la tecnología sigue su curso, y ya se han dado los primeros pasos para realizar una actualización de su actual sistema de gestión corporativo basado en Dynamics AX a Dynamics 365 Finance & Supply Chain Management, así como la incorporación de Microsoft 365 a los equipos de trabajo para mejorar la productividad y las comunicaciones, todo ello, de la mano de EQM, socio tecnológica clave para Interflora en su proceso de transformación digital.
EQM, partner tecnológico clave en el proceso de transformación digital
Para Fernández -Baillo, en este proceso, tiene un papel primordial no sólo la tecnología, sino también los partners o socios tecnológicos con quien abordes este proceso. "En Interflora apostamos por EQM, por su experiencia y conocimiento contrastado en la implantación y optimización de soluciones empresariales de Microsoft y por su total compromiso con nuestro proceso de transformación digital que queda patente día a día…"
---
Enterprise Quality Management
Como Partner Gold de Microsoft, somos la compañía experta en consultoría, implantación, integración, soporte y formación de Dynamics 365 Finance & Supply Chain Management y resto de productos de Microsoft para su organización.
Nuestra metodología y aproximación a la resolución de tus problemas, la realizamos desde el conocimiento de tus procesos de negocio, para identificar la solución que realmente permita resolver tus necesidades.
Accede a más información acerca de los productos de Microsoft que implantamos en EQM, desde el apartado "Soluciones", disponible en la cabecera de esta página web.
Contáctanos a través de nuestro formulario de contacto, para recibir rápidamente la información y asesoramiento adecuados, sin compromiso.
---
English Version
EQM | Interflora: example of digital transformation with tangible results
Interflora has once again boosted online sales for its Valentine's Day campaign in Spain and Portugal, this year by more than 50%, far exceeding all expectations.
Network of florists and ambitious digital transformation process launched seven years ago by EQM are keys to embracing this growth and absorbing high peaks in demand.
It seems clear that the pandemic has changed the way we consume goods. A change is taking place in the economic model and, consequently, online purchases in many industries are being impacted with better or worse fortune. And although this was already happening, and e-commerce was already on an upward trend before the pandemic, data clearly shows that online sales have undergone major growth in recent months and are firmly here to stay.
In this scenario, Interflora Spain has boosted its online sales by more than 50%, having successfully met the high demand for its products in the first few weeks of the year.
Valentine's campaign has far exceeded our expectations
A perfect Valentine's Day calls for flowers and Interflora lets you choose the perfect design to surprise that special person. What's more, with Interflora you can choose between same-day, next-day or scheduled delivery, which makes the purchase decision and process much easier.
The flexibility that technology gives to Interflora is key to addressing specific situations of a very seasonal business, where certain weeks of the year, such as Mother's Day or Valentine's Day, there is an enormous growth in the normal volume of orders.
According to Gustavo Fernandez-Baillo, CIO of Interflora, "… the pandemic has cemented a change in the economic model that is having an impact on online purchases. In our case, we exceeded all our expectations in the run-up to Mother's Day in 2020, which also happened this year in the week before Valentine's Day, recording more than 50% more than last year's figures..."
He added that, "…we've far exceeded our forecasts and the results of the previous year's campaign, positioning ourselves as a much more appreciated and valued option for our customers".
Ambitious digital transformation process and network of florists, keys to embracing this growth
Interflora's firm commitment to new channels and technologies, backed by a robust process of digital transformation, as well as the specialisation and commitment of its network of member florists, are keys to embracing this growth and absorbing the high peaks in demand.
These peaks, which according to Fernández-Baillo were tackled once again without a single technological incident, "can only be absorbed and managed thanks to having migrated the entire infrastructure to the cloud and having tremendously strong and powerful integrated management systems and applications such as Microsoft Dynamics and Magento, which provide great stability and peace of mind in terms of operations and the everyday work of the company's departments..."
According to Fernandez-Baillo, "… at Interflora we embarked upon a far-reaching process of digital transformation more than seven years ago. We were visionaries in this regard and decided to undertake an in-depth review and redefinition of the company's business processes. We were using highly restrictive and tailor-made technological platforms which entailed major difficulties when dealing with new ways of doing things. We decided to opt for standard technologies that today are the cornerstones of this transformation, helping us attend to our customers and provide the right levels of service..."
Fernández -Baillo added that "although in Spain the average annual spend on flowers is substantially lower than in other European countries, these growth figures confirm that we've taken the right track by digitising our business, always supported by our key strength, the network of Interflora florists".
The future: more cloud, migration to Dynamics 365 Finance & Supply Chain Management and higher productivity with Microsoft 365
Interflora 's passionate commitment to technology is following its course, and the first steps have already been taken to upgrade its current Dynamics AX-based corporate management system to Dynamics 365 Finance & Supply Chain Management, as well as the incorporation of Microsoft 365 for teams to enhance productivity and communications. All of this is with the help of EQM, a key technological partner for Interflora in its digital transformation process.
EQM, key technological partner in the digital transformation process
Fernández-Baillo believes that not just technology plays an essential prole in this process, but also the technological partners who you approach it with. "At Interflora, we work with EQM because of its experience and proven knowledge in the implementation and optimisation of Microsoft business solutions and its total commitment to our digital transformation process, which we get to see every single day".
---
Enterprise Quality Management
As a Microsoft Gold Partner, we're an expert company in the consulting, implementation, integration, support and training of Dynamics 365 Finance & Supply Chain Management, as well as other Microsoft products for your company.
Our methodology and approach to solving your problems focus on knowledge of your business processes to identify the solution that really allows you to solve your needs.
For more information about the Microsoft products that we implement at EQM, enter the "Solutions" section at the top of this page.
Please use our contact form to quickly receive all the information and advice you need, with no strings attached.